Our Gold BJJ Jiu Jitsu gi review goes over this popular gi brand's feel, functionality, and longevity. A Brazilian Jiu-Jitsu kimono needs to be more durable than the gis used for other martial arts, given how much time BJJ players roll on the mat when they train.
Gold BJJ Jiu Jitsu gi review: First thoughts
Your regular karate gi won't cut it. It's too light, and it's not designed for all the pulling and tugging that goes on during BJJ classes. Sure, it will its enough to cover your butt, but it won't take long before it starts to tear due to heavy use. That's one of the things we will evaluate during our Gold BJJ Jiu Jitsu ii review.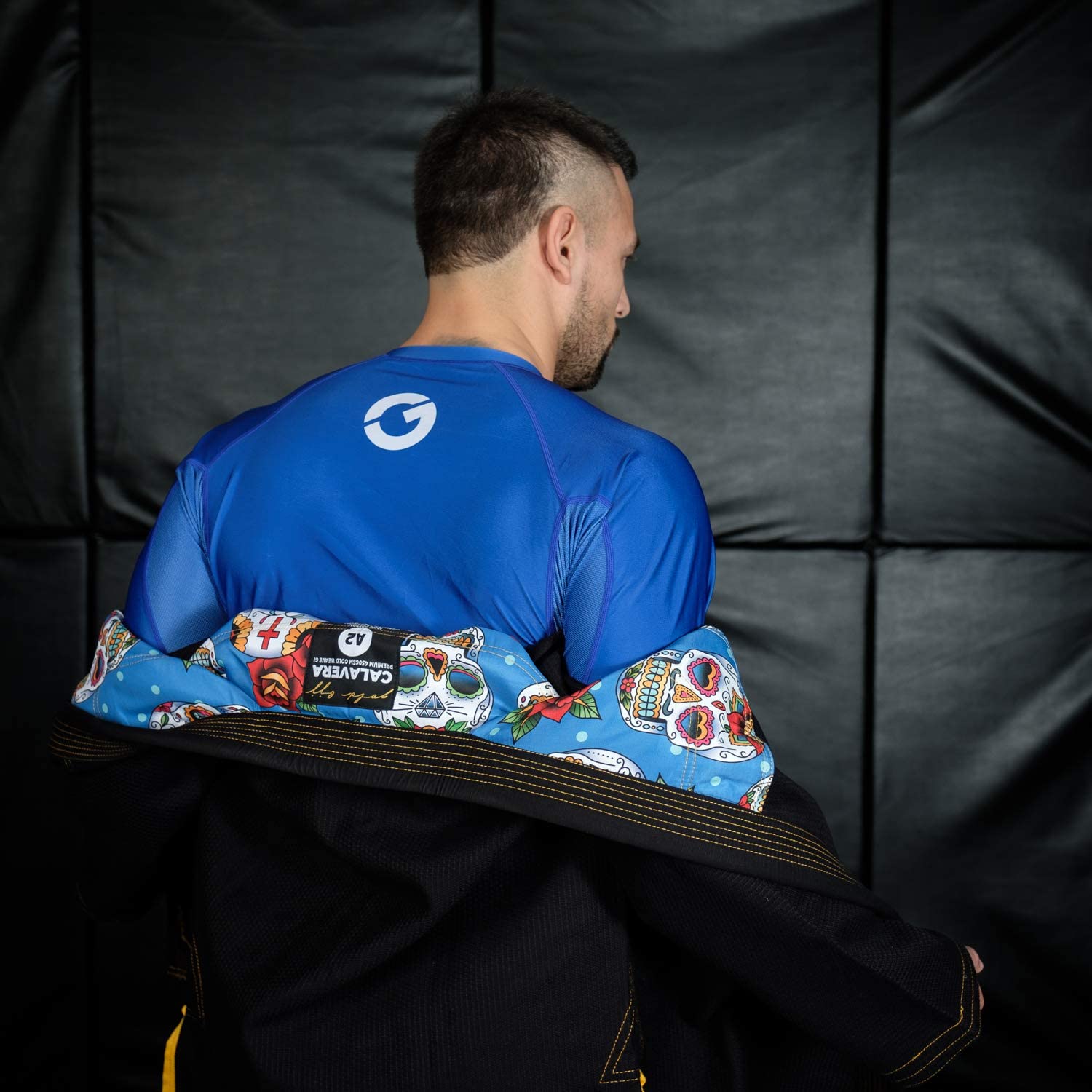 You also don't want to spend too much on a quality gi since it will be drenched in sweat after each class. This means you'll have to wash your gi more than once each week. You don't want to be that person who walks into the gym stinking of sweat before the class starts, do you?
A good BJJ kimono should be durable enough to handle the massive forces put on it, and it should still look decent even after its been in the washer hundreds of times. Let's dive into our Gold BJJ Jiu Jitsu gi review to see if this brand fits the bill.
[Read what others are saying about this gi]
Gold is one of the newer BJJ gi brands, and their products are making a good impression wherever they're used. It uses a soft and durable weave, 450 GSM, that gives it the strength of a double weave gi while retaining the lightness of a single weave gi.
The neck area of Gold BJJ gi is lined with the same material used to make rash guards, preventing the gi from irritating your neck. That's something hardcore grapplers will appreciate.
The gi pants that come with the kimono weigh about 10 oz, and they're made from breathable ripstop materials. The collar is rubberized so it can handle all the Ezekiel and cross-chokes your training partners try to tap you with.
Pros
Other noteworthy features of the Gold gi include:
Durable weave provides increased comfort
Rashguard neck lining
Ripstop pants
Reinforced, rubberized collar
No questions asked warranty
Shrinkage due to washing is factored into the sizing chart
Cons
Some have complained about the drawstrings fraying after being washed
Gold BJJ Jiu Jitsu gi review verdict: Great pickup for BJJ players
While Gold is one of the newer brands in the BJJ space, its products are made to very high standards. You get a gi that can handle the rigors of training while remaining comfortable. It's affordably priced, so you can pick up a few pairs to handle your weekly training needs. Click here to learn more about this gi.