Your average Ofotrain treadmill review is an expert take on the features and performance of a specific brand of treadmill. These reviews also detail the pros, the cons, and the tradeoffs to expect with the equipment.
Today we look at the Bowflex Treadmill 22, which currently retails north of $2,500. The pricing suggests a feature-rich treadmill that's built to last. Let's see how the treadmill holds up to the demands of regular and intense use.
Ofotrain treadmill review: Bowflex Treadmill 22 hardware
The first consideration (and tradeoff) that you have to make has to do with the sheer size of the Bowflex T22. This treadmill is bulky, with a footprint that's seven feet long, 2.5 feet wide, and six feet high. It also weighs around 350 pounds, so installing the machine could be your very first workout with the T22.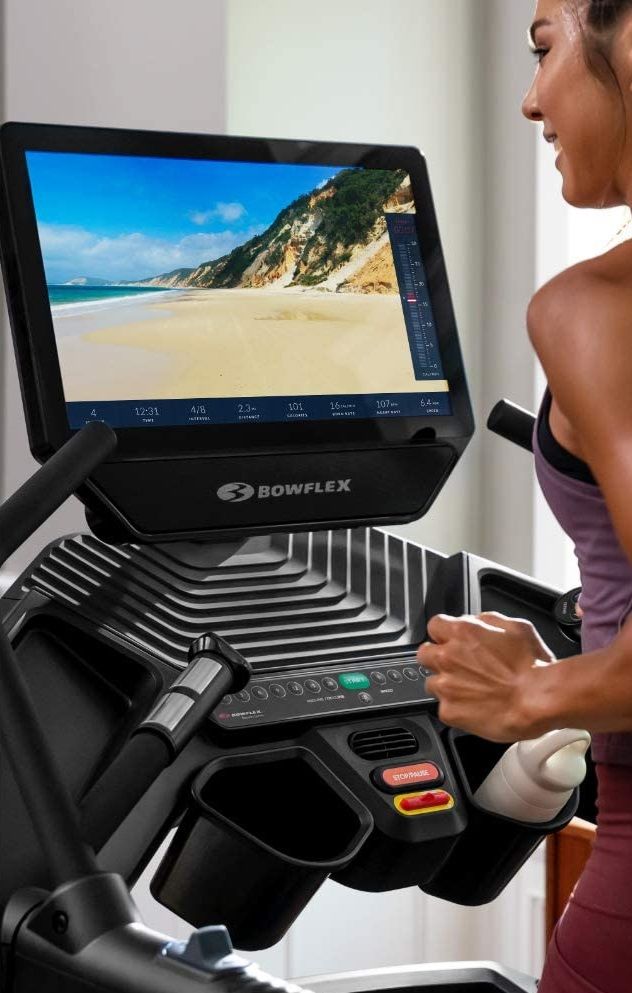 You should consider paying a little extra for a professional, hassle-free install if heavy lifting isn't part of your regular fitness routine. However, if you choose to go the DIY route, get one or two people to help with the heavy lifting. Then offer them a nice meal for all their hard work.
Build, stability and comfort
The heavy, bulky frame of the Treadmill 22 makes it exceptionally stable. This is a big plus when you want to break into an all-out sprint without worrying that the treadmill will topple.
Then there's the roomy, comfortable deck that is the Bowflex T22. The treadmill belt is 22 inches wide, which is more than enough room for the biggest of frames. Are you 6'4" with the build of a tank? You'll have all the space you need to do a five-minute mile on the T22. At 60 inches long, the belt has enough legroom to accommodate the running stride of a very tall person. It gets better, seeing as Bowflex has a reputation for solid exercise hardware.
The three-ply belt makes for a surface that's easy on the feet, knees, hips, and back. It provides a cushion that minimizes the impact to your joints, which is more than we can say for jogging on hard pavement. Better still, a set of 2.75" rollers keeps the belt taut, stable, and in position with each footfall.
[Read what others are saying about this treadmill]
Ofotrain treadmill review: Motor and maximum weight
Remember the previous section, specifically the part that says that the Bowflex T22 can take whatever you throw at it? Well, the treadmill takes on weights of up to 400 pounds, thanks to a powerful drive motor.
The motor runs at a constant of 4.0 CHP (continuous horsepower). As powerful treadmills go, 4CHP is right up there with the best equipment in the market. A motor of this size can handle the demands you put on it while remaining perfectly quiet.
To put it another way, the T22 is comparable to actual, real-life gym treadmills. Expect the equipment to remain in good condition, even if it becomes the family treadmill. That's how solid of a build the Bowflex Treadmill 22 boasts.
Maximum speeds and incline control
The T22 will reach a peak speed of 12 miles per hour, allowing you to achieve a five-minute mile. Recruits in the army only need to run eight-minute miles to pass basic training to keep things in perspective. This goes a long way towards creating intense workouts that leave a nice after-burn.
Go ahead and push your muscles some more by running at an incline. This is possible thanks to the treadmill's ability to tilt at an angle of up to 20 degrees. You can also tilt the deck 'downhill' at an angle of five degrees. The motorized tilt feature allows you to add variety to your workouts, making it easier to reach your fitness goals.
Ofotrain treadmill review: User experience
So far, the powerful hardware of the Bowflex Treadmill 22 suggests that the machine is worth what you pay for it. This is an excellent time to explore the different bells and whistles that make your workout sessions more fulfilling.
For starters, the T22 has a set of hand grips that measure your heart rate. A second pair of grips allows you to make manual adjustments to the speed and incline of the treadmill. This is in addition to allowances for your tablet, music player, water bottle, and whatever else you need as you exercise.
Bluetooth and WiFi connections allow the equipment to interface with your mobile devices and wearables. You'll need a steady connection to take advantage of the treadmill's smart features.
Smart features: JRNY platform on a 22-inch screen
The JRNY app is the new kid at the stomping grounds of big players like Peloton. Bowflex looks to compete with fitness brands that have smooth, intuitive products with this app. How does JRNY hold up against the competition?
The app has a lot of ground to cover before it can catch up with the excellent hardware and software from other brands. Here's what to expect from JRNY:
1. Adaptive workouts
JRNY will ask you about your workout preferences and fitness goals as you set up the platform. It will also learn your usage habits to craft personalized workouts that fit your needs.
2. Workout pre-sets and JRNY trainers
The app ships with proprietary workout routines and exercise videos. There's also a selection of scenic routes that you can use to make your workout more enjoyable. This is where the treadmill's 22-inch screen comes into play.
3. 22-inch screen
The Bowflex Treadmill 22 gets its name (in part, anyway) from the 22-inch HD touchscreen that could become your good friend. Use the screen to watch one of the training modules that ships with JRNY or to walk the picturesque streets of Rome. You could also monitor your heart rate as you binge-watch your favorite show.
4. Streaming services with JRNY
The app lets you stream content from apps like Netflix and Hulu, which is an excellent way to keep you on the treadmill for longer. It seems nice to be able to enjoy the content that you pay for from your treadmill, but there's a catch.
Ofotrain treadmill review: The downsides to JRNY
A fitness platform is a relatively new direction for the creators of the T22, and there are teething problems to prove it.
For starters, the super-fun parts of the JRNY platform sit behind a paywall. This means that you'll have to pay a monthly fee to access streaming services and certain fitness trainers. Considering the price of the treadmill, some users will frown at the JRNY subscription. The thought of paying a subscription to watch Netflix (which you already pay for) can be annoying.
Two, the platform's routine firmware updates can be unpredictable. Several customers describe different software malfunctions after an update. The good news is that the developers responsible for JRNY are aware of the issue, and they're smoothing out the kinks.
Pros
A sturdy, stable treadmill that promises to be durable
Powerful motor that allows the equipment to run quietly
The treadmill allows for weights of up to 400 pounds
Long, wide treadmill belt that cushions the joints
Smart features that add to the overall user experience
Cons
Expensive
This is a large treadmill that takes up space. Installing it is also a big project
Fun parts of the JRNY software sit behind a paywall
The JRNY platform needs some work
Ofotrain treadmill review verdict: Excellent hardware, but the JRNY app needs to catch up
This Ofotrain treadmill review finds that the Bowflex Treadmill 22 is a workhorse that promises years of solid service. However, the JRNY platform could use some changes, additions, and tweaks. If running on a treadmill makes up a significant portion of your fitness routine, this is one of the treadmill brands you should be looking at. Click here to learn more about this treadmill.
Read more:
Logan Paul Claims Floyd Mayweather Owes Him Money
Jake Paul Promises to Leave Boxing if UFC Improves Fighter Pay and Benefits
Floyd Mayweather Returns to Boxing to Face YouTuber
Henry Cejudo Offers to Fight Alexander Volkanovski at UFC 272